Meet our Management Team!
Mark Foat, CPA, CBA, CVA, CFF
As one of the original founders, Mark Foat is now the majority shareholder of McCoy Foat. His work style can be summed up in two words: energy and synergy. If you've talked with Mark you understand the energy part of the equation; he overflows with enthusiasm and ideas. The synergy component is more subtle. Mark is constantly thinking about how to combine efforts, serve clients and improve the work environment for the team at McCoy Foat. Mark's philosophy is this: "If we invest in our employees and foster a positive work environment, our clients will reap the benefits." It's a simple idea that shines a guiding light on the work done at McCoy Foat.
Mark earned his Bachelor of Science degree in business at Warner Pacific College while working in the banking industry. For many years he worked as a commercial risk officer in both the retail and commercial sides of the bank – analyzing complex financial issues, ratios and cash flows. Mark founded McCoy Foat in 2001 with Michael McCoy and Dick Gassner, and the goal of offering tax preparation and other financial services to help businesses grow and prosper. In 2015 Mark purchased Mike and Dick's shares in the company, and today Mark is involved in all areas of the firm, with emphasis in commercial finance and business valuation. "We're really interested and engaged in supporting our clients' business growth," he says. "In doing so, we take a team approach – business problems tend to be multifaceted. We proactively help our clients solve problems and avoid future issues with a soup-to-nuts approach that conveniently meets all of their needs."
Mark lives in Northeast Portland with his wife of 30-plus years. He enjoys what he describes as "good" music – you know, with real instruments – wine tasting, golf, and just hanging out with his family. Mark spent the better part of his early years playing drums in various rock, blues and country bands. After taking a more than two-decade break, he dusted off his drumsticks and began playing again. Currently he plays for the 8:30am contemporary service of Augustana Lutheran Church in NE Portland, and anyone within earshot of his basement.
Mark is a member of the American Institute of Certified Public Accountants (AICPA), the Oregon Society of Certified Public Accountants (OSCPA) as well as the Institute of Business Appraisers (IBA) and the National Association of Certified Valuators and Analysts (NACVA). He is a Certified Public Accountant and holds both the Certified Business Appraiser and Certified Valuation Analyst credentials. Mark has also earned the Certified in Financial Forensics (CFF) designation from the American Institute of Certified Public Accountants.
A few of Mark's Favorites:
A grilled salmon filet on top of greens
Marionberry pie
The annual summer Sunriver trip with his family
HIIT classes
A "big" wine
A round of golf at Columbia Edgewater Country Club
Sherri Ness, JD
Sherri Ness is inherently detail-oriented and impeccably organized, so a career in accounting is a natural fit. Sherri grew up in Alaska and earned a bachelor's degree in business administration from the University of Alaska before migrating south to earn her law degree from the University of Oregon. Throughout her education journey, she knew her ultimate destination would be a position in tax management.
After graduating, Sherri worked for a large CPA firm, specializing in international and domestic tax management. Today, as a manager at McCoy Foat, Sherri's responsibilities range from accounting and financial statement preparation to collaborating with all members of the accounting team to ensure quality work and client satisfaction. Her background in law brings a slightly different perspective and skillset to the table, balancing the highly technical skills of her colleagues.
Sherri appreciates the opportunity to work in McCoy Foat's positive, team-oriented environment with a personalized boutique approach to service. "I strive to find the right balance between being very detail-oriented and highly cost efficient," she explains. "Our goal is to provide strong value and reliable partnership to our clients." Those who have worked with Sherri will tell you that she is a good listener and a great problem solver. "I try to understand my clients' needs and help them find appropriate solutions by applying my knowledge to their business challenges," she says.
Sherri is licensed to practice law in Oregon and Washington, and is an active member of the Oregon State Bar Association and the Washington State Bar Association. Sherri lives in the Portland area. When she's not working, she and her family enjoy traveling and cruising around the world. Before and after tax season, they escape to SunRiver as frequently as possible.
Trevor Habig, CPA
Born in Kansas, Trevor moved to the Portland area with his family when he was in high school. They were drawn to the beautiful northwest and loved the Portland area.
Trevor went to college at Hope International University in California, where he earned his bachelors' degree in business management. He always enjoyed accounting classes, so it wasn't a hard decision for him to focus on the accounting profession. While at Hope, Trevor took additional accounting classes through a joint program at Cal State Fullerton, which furthered his education in the accounting field.
Since returning to the Portland area, he has advanced his career as a "numbers guy." As suspected, accounting is a perfect fit for Trevor's persona. His clients will tell you that he is helpful, meticulous and hardworking. He also prides himself in being accurate and in advocating for clients. "I enjoy helping clients sort out their business issues. It's quite fulfilling to deliver a nice, concise, clear product in the end," says Trevor.
Trevor started with McCoy Foat in 2014. After his first interview, he knew right away it would be a good fit for him. "The partners and managers were great and the people were very nice," says Trevor. He also likes the friendly and helpful work environment that McCoy Foat facilitates for both employees and clients.
Trevor lives in Newberg with his wife, three daughters, son and his black lab. When he's not at work, he enjoys hanging out with his family, watching sports (especially football), woodworking and working on his car.
Meet the Rest of our Staff!
Candace Plant, EA
Candace, or Candy as she is known around the office, is a veteran of the tax accounting game. She's on her 45th tax season since beginning her career in Portland's Lloyd District. Her patience, and love for numbers and forms (yes, forms) has allowed for a long and successful career traversing the tax accounting landscape. She always enjoys the satisfaction of a job well done on April, and October 15th when the busy season comes to a close.
Candy comes to Portland via Chicago. While growing up in the 60s she spent summers in the Portland area with her aunt and uncle, and fell in love with the Oregon outdoors – especially Mt. Hood. She says "I'll always remember by first chairlift ride up at Timberline Lodge." She still makes it up to her favorite spot – Hoodoo Skibowl – for some downhill skiing when she gets the chance.
The Charbonneau district is home to Candy and her husband, but she makes traveling a priority. She goes on two road trips each year with her friend, and her friend's dog. They've visited 46 National parks since they began and they've been joined by the dog for 33 of them.
A few of Candy's favorites:
Crater Lake National Park, especially in the Winter
The Chicago Cubs
An IPA
The Beatles, who she saw perform in Portland
An Italian dinner, finished with a scoop of spumoni

Heather DeRoberts, Administrative Assistant / Receptionist
Heather will often be the first face clients see, or the first voice they'll hear at McCoy Foat. As an Administrative Assistant and Receptionist, Heather enjoys directing traffic around the office, and ensures that everyone leaves with a smile on their face. She loves a good joke, and says "My day isn't complete until I can make someone smile."
She helps clients understand their tax return upon delivery, or will find them the best person to explain the intricacies. Heather is there to help, but there's toughness behind her gentle demeanor. "The New Jersey Devils are my favorite Hockey team. Since I was young, I have enjoyed Hockey – and yes, the fights are my favorite part."
Heather moved to Oregon with her family when she was 13 years old. Since then her own family has grown to include her husband of 22 years, three sons, and a grandson. Family is important to her, and she keeps most of her loved ones close by in Canby, Oregon. When she's not at work she enjoys crocheting, reading, playing games with the family, or sitting on the back deck while the kids play in the pool.
Some of Heather's favorites:
Any Italian food
Vanilla, or orange sherbet ice cream
The Portland Zoo
A trip to New Jersey to visit family and friends
A good romance novel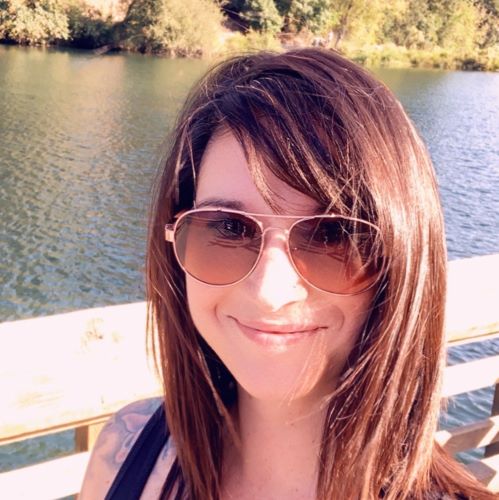 Jessica Benadom, Accountant
Jessica began her career in accounting as bookkeeper for her family business. She developed a relationship with McCoy Foat when her family business began working with the firm, and in December, 2019, she transitioned to a part time role with McCoy Foat as a bookkeeping specialist. As someone who takes pride in her work, Jessica was a perfect fit for McCoy Foat - only six months after her part time role began, she joined the McCoy Foat team full time. Jessica remembers "Even before working for McCoy Foat I felt welcomed by everyone. They are dedicated to their clients, and to each other, and that dedication flows into their work."
Native to the Northwest, Jessica finds her hometown to be one of the most beautiful there is. She loves that she is never too far from a mountain or the coastline, and frequently strolls around her Oregon City neighborhood with her dog to catch up with the neighbors. Along with her husband, and two daughters, her family feels right at home. When they get out of town, Jessica and her family enjoy Great Wolf Lodge in Centralia, Washington, and for some local delights they frequent Crystal Falls Rhododendron Garden. The warmer months of late spring to early fall are their favorite to enjoy the Great Northwest.
A few of Jessica's Favorites:
Girl, Wash Your Face, by Rachel Hollis
Pizza topped with pineapple, and a Shirley Temple.
Mr Blue Sky, by Electric Light Orchestra
Taylor Swift
Never misses a Seattle Seahawks game!

Lori Grant, CPA
At McCoy Foat, Lori Grant found what everyone looks for in their professional endeavors; work that doesn't feel like work. In August of 2015 she joined the firm, and she appreciates the relaxed and flexible atmosphere. Her organizational skills make her a good fit for the accounting and tax field - while others may groan when yet another tax rule changes, she loves the variety that the changing landscape brings to her work.
Lori attended George Fox College (now George Fox University) in Newberg Oregon, where she earned her Bachelor of Science in Business and Economics. She is a native Oregonian, and values the great outdoors accordingly. Lori loves to hike and bike everywhere, but especially on the Rails to Trails system. Be it at home in her garden, on the coast, or in the mountains, you'll find Lori outside in her free time soaking up the fresh air in the Northwest.
Lori calls Salem home, along with her husband and two cats. She also has three grandchildren and a great grandchild living out of state.
A few of Lori's Favorites:
Pralines and Cream ice cream
Oregon beaches, Cape Perpetua, Devils Churn
Your Scars Are Beautiful to God, by Sharon Jaynes
The cheesiest pizza
Strawberry lemonade
"Look back in forgiveness, forward in hope, down in compassion, and up with gratitude."

Marlys Walker, Accountant
Marlys comes to us via sunny Southern California. At first, she came to the Pacific Northwest as a visitor to see her brother, but as the years went on, she and her family decided to make it their full-time home when they fell in love with Oregon's scenic beauty and wildlife. She loves that she gets to experience all four seasons in Portland, and values the community feel and outdoor activities.
Nursing was Marlys' initial professional goal, but, as she puts it, "I quickly realized it wasn't for me when I was invited to my first autopsy." She recalibrated and took a job at a Savings & Loan, where she set her sights on the accounting department. She found that she liked the detailed, analytical work, and it was this experience that led her to pursue an education in accounting. She has worked as an assistant controller and controller for two California savings and loans companies and as an accounting specialist for a Portland tax consultant before joining McCoy Foat in 2015.
At McCoy Foat, Marlys enjoys helping clients with their accounting and payroll needs, working one-on-one with clients, and being support for them, especially in critical times. As she puts it, "It's satisfying to build relationships with clients, so that they feel comfortable calling for guidance and support."
When Marlys isn't working, she enjoys gardening and visiting gardens. She and her husband are active in their church community group. She also enjoys family get-togethers, which often include old movies, BBQs or pizza. She and her husband have two children, who live in Portland, and a beloved orange tabby cat, Ned.
A few of Marlys' favorites:
Husband's love of cooking
Salty's on the Columbia
Puttanesca pizza
Cheetos that make your fingers orange
Vacations at Carmel by the Sea, or Hood River

Sterling James, LTC
Sterling wasn't born in Portland, but he feels like a native. He and his wife moved to Oregon 26 years ago from California, in search of a place to raise their young family. Since then they settled in West Linn, not far from their two daughters who live and work in the Portland area. He and his wife enjoy all of the things a good Oregonian should; parks, nature walks, reading, and most of all a nice evening on their back deck. You could say that in 26 years they've adjusted nicely.
For years, Sterling was self-employed as a real estate investor and developer, but in 2009 it was time to make a change. A CPA friend encouraged him to give the accounting field a go, and due to his already extensive knowledge in accounting practices for the self-employed he took to the profession like a fish to water. He values accounting for "the way it brings order to the Universe – or, at least to someone's tax return," and he revels in the completion of a particularly complicated project.
Sterling began with Mccoy Foat in 2014, and he loves the nice people and relaxed working atmosphere that make the culture so inviting.
Some of Sterling's favorites:
Mexican food
Chocolate ice cream
His favorite non-accounting course in college was Fencing
The Eagles, and Tom Petty
Coffee, or ginger beer
Of Counsel (Retired)

Richard "Dick" Gassner, JD
"Do the right thing. Period." This is the philosophy that Dick Gassner works by every day and strives to cultivate in the working environment at McCoy Foat. He explains, "I don't believe in taking shortcuts. I've found that if you do the right thing – always acting with integrity and professionalism in the best interest of others – success will always follow."
Dick officially retired June 30, 2016, but he will always be an important member of our team. He remains available for special projects and "is only a few miles from the office" whenever we need a hand. Dick admits that he's more of a "word guy" or wordsmith than a "numbers guy." But don't let that fool you. While he may be a writing and problem-solving dynamo, he can still hold his own with a financial statement. As one of the original founders of McCoy Foat, Dick manages special projects on a part-time basis, including researching legal issues, finding answers to tough questions, writing policies, negotiating tax disputes, serving as a designated trustee for structured settlements, and of course, managing business and individual clients. He also helps business owners establish legal entities and navigate the obstacles that arise throughout the life of any business.
So how did this "word guy" land at a tax and accounting firm?
After securing his MBA from Portland State University and his law degree from Willamette University, Dick began his tax career at Arthur Andersen. From there, he went on to provide complex tax services for Portland General Electric (PGE) and later as a tax director for Pacific Power & Light (PP&L), before cofounding McCoy Foat.
It was at PGE that Dick first met his soon-to-be friend and business partner Michael McCoy. When Michael first set out on his own (before the days of McCoy Foat), Dick often strategized with him on complex tax issues. So, when PP&L was purchased and Dick's position was eliminated along with the rest of the tax department, it seemed like a natural next step to join Michael McCoy and Mark Foat in establishing a new firm.
The trio was destined for success, as evidenced by several years of steady growth and the fond praise of the firm's clients and employees. When you meet Dick, you'll immediately notice his warm smile and calming presence. He says, "I try to be steady and even-tempered. These qualities really help in stressful tax situations. I'm able to understand others' positions and present our positions in a calm, strategic and persuasive manner."
Dick is licensed to practice law in Oregon, is an active member of the Oregon State Bar Association and a licensed Oregon real estate broker. He resides in West Linn and has two grown sons, three grandsons and a granddaughter. When he isn't working, you'll find Dick out hiking, biking, fishing or restoring an old car.

Michael McCoy
Although no longer a shareholder, McCoy Foat honors the career of founding partner Michael McCoy. Michael began his accounting career at the University of Oregon with degrees in quantitative methods and accounting. He worked for a national tax firm before joining Portland General Electric (PGE) as the head of their securities and exchange and, later, accounting departments. Michael then served as a vice president for North American Energy Services, managing large thermal energy projects, as well as mergers and acquisitions. In 1987 Michael followed his entrepreneurial dream, establishing his first eponymous firm.
Michael joined forces with Mark Foat and Dick Gassner in 2001 to create McCoy Foat and Company. Over the course of his distinguished forty-five year career, Michael excelled in all areas of tax planning and business strategy, holding the Certified in Financial Forensics (CFF) designation from the American Institute of Certified Public Accountants and the Certified Valuation Analyst and Certified Business Appraiser designations from the National Association of Certified Valuators and Analysts (NACVA). Since his retirement in December 2016, Michael has enjoyed spending time with his family, Heidi and dog Rashna, traveling, and exploring his favorite hobbies: boating, scuba diving, and cycling.